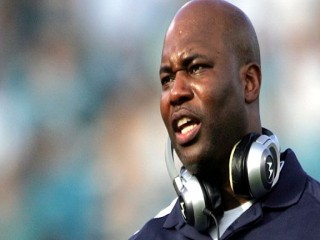 In his first year as the Giants defensive coordinator, Perry Fewell has revitalized a pass rush that brought Big Blue a Super Bowl just three short seasons ago. New York's season sack total of 32 puts them third in the league tied with Green Bay and St. Louis; trailing league leading San Diego by only two sacks. In addition, the Giants rank number two in overall defense and holds claim to the league's best pass defense yielding merely 186 yards per game.
That may not be good news for Eagles quarterback Donovan McNabb, who is on pace to throw more touchdowns than interceptions this season (11 touchdowns, 13 interceptions through 11 games). Fewell purports that #5's struggles are a result of his continuing acclimation to a new offense.
"Even though he's grasped the system, it's not the one like he was comfortable with in Philly, commented Fewell. "I still see the savvy veteran quarterback that has a strong arm and he's able to break you down. If he wants to scramble, then he can look all over the field and throw the ball from one side of the field to the other."
McNabb's elevated interception total does not fall solely on the quarterback's shoulders and according to Fewell, McNabb's supporting cast is not as talented or proven as in years past.
"I think some of it is his receivers not being at the right spot at times," suggested Fewell. "Some of the times, he throws some bad balls. He has learned a new offensive system and everyone is not in the right spots and the ones he expects them to be in. He's had some receivers that have changed positions and he doesn't have a consistent receiving corps like Eli."
Fewell plans to utilize multiple fronts and disguise coverages to add to McNabb's confusion and disrupt his receivers' route adjustments.
"It's not like he's not the general of the offense, but he doesn't know where everyone is deployed and where everybody is," noted Fewell." He has made some mistakes as far as that is concerned from what I can see on tape."
Fewell said that despite McNabb's struggles this season, he has the intangibles to pose a dangerous threat to New York on Sunday.
"I see the veteran leader as a quarterback who's willing to carry his football to if he has to," said Fewell.