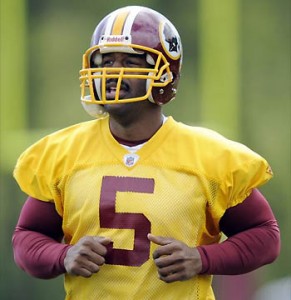 Donovan McNabb's first year with the Washington Redskins has been a tumultuous ride both on and off the gridiron. It began with Redskins' head coach Mike Shanahan questioning McNabb's conditioning level, benching #5 in favor of Rex Grossman during the last two minutes of the Redskins week 8 matchup with the Lions. Shanahan insisted that Grossman gave Washington the best chance of winning, as the Redskins proceeded to fall 37-25 to the woeful Lions. During the Redskins' bye week, it was announced that McNabb agreed to a five year, $78 million dollar contract extension with Washington.
Perhaps the heavy wallet slowed him down.
The team's next game on Monday Night Football, McNabb and the Redskins played host to his former club, the Philadelphia Eagles, losing in a rout 59-28. The Redskins have split their last two games and the dust from last month's controversies has appeared to settle. McNabb is relieved that those issues are behind him, and now he can concentrate on winning games.
"Things have settled down," acknowledged McNabb. "I don't have to answer those questions too much anymore. At least that's a bonus. Again, I think for all of us that we have to move on from the situation and focus on what we have to do to be a good football team over here."
McNabb is giddy at the prospect of facing Big Blue as he has compiled an 11-7 career mark against the Giants, tossing 25 touchdowns, rushing for three scores while tossing only six interceptions. McNabb attributes his success against the Giants to his familiarity with their defensive schemes, something which he developed in his twelve plus seasons in the NFC East.
"It's just a comfort level in the team that you're with and the things that you're able to do," indicated McNabb. "Guys around me made plays, and when you're playing against a team twice a year, you have a feel with them, like what they're going to do, their defense's fronts and blitzes, and the answers to some of their questions. That's something that is obviously a lot different being with a different ball club, but when you play against a team for eleven years, you build a good relationship with them, as far as what they're doing and the defensive coordinators and things of that nature. "
McNabb is fully aware that he will be facing a vaunted Giants pass rush that has a reputation for thumping opposing quarterbacks. The Redskins quarterback has been sacked 46 times and lost four fumbles in 18 career games against Big Blue.
"We have to recognize the blitz and be able to get the ball out, and give our guys opportunities to make plays," stressed McNabb. "We have to be able to run the ball, and run our offense." And don't think for a moment that the Giants aren't aware of McNabb's track record against then. Giants head coach Tom Coughlin summed up McNabb's propensity for stinging Big Blue in big games.
"Stinging" seems to be the choice word.
"You could put it that way," admitted Coughlin. "He's going to be in a different uniform-that would be a little different for all of us-but we have played against Donovan many times and he certainly is an outstanding quarterback and leader of his team, no matter whether it's Philadelphia or Washington."
Coughlin was also asked to provide his reaction to Philadelphia trading Donovan within the division. The usually stoic head coach Coughlin was curt with his reply.
"My thoughts can't be expressed at this time," Coughlin said.