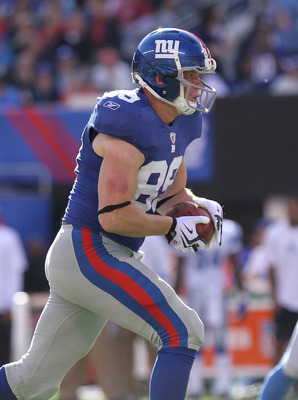 In the first quarter, Kevin Boss caught the ire of the coaching staff with a holding penalty that negated Mario Manningham's nine yard touchdown. In the final period, the Giants tight end may very well have salvaged Big Blue's season.
It was a routine play as this past Sunday, the Giants faced a third and 10 from Jacksonville's 32 yard-line, down 20-17 with just under four minutes remaining in the game. Quarterback Eli Manning took a quick drop and slung the ball over the middle to Boss, who rumbled and stumbled all the way past the goal line for the game winning score. For Boss, his heroic catch and run pardoned his first half error.
And he knows it.
"I wanted to make up for a few mistakes I had, it felt good," Boss said."It wasn't the most glorious route or graceful run after the catch, but I'm sure glad I made the score." For Giants fans, the lack of style points on the play was more than made up for by the fact that it gave New York a 24-20 home win over the Jaguars.
With wide receivers Steve Smith and Hakeem Nicks hobbled by injuries, Boss and fellow tight end Travis Beckum are expecting to play a more integral role in New York's passing game. Boss has three touchdowns, 192 receiving yards and 24 receptions over his past four games; filling the void left by Big Blue's injury plagued receiving core.
"This could be a good opportunity for Travis and I to get more involved in the offense," suggested Boss. "We're going to make the most of our opportunity. "
The soft-spoken tight end admitted he was inspired by Justin Tuck's fiery half-time speech, citing it as the impetus for the Giants superb second half performance. The fourth year player commends the veteran Tuck for embracing a leadership role, willing New York to victory.
"It was hard not to hear it," noted Boss. "We're on opposite ends of the locker room. You couldn't help but overhear it. It fired up everyone in the room. I think everyone who was listening took a little energy away from that. It got us going for sure. Tuck has definitely stepped up into a leadership role big time this year. With Eli [Manning