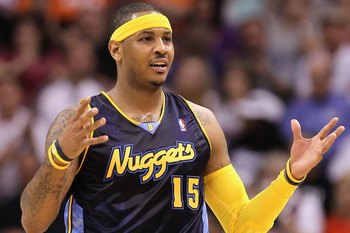 Monday night New Jersey was nothing but net shooting a blistering 60 percent from three point range en route to a season high 115 points. Floor general Devin Harris showed that sharing is caring recording a career high 18 assists to go along with nine points. The Nets and Nuggets played wire to wire action with New Jersey's 16 point win proving bitter sweet.
Avery Johnson's Nets had an extra pep in their step with the dust completely settled from the "Melodrama" trade rumors. Speaking of Mr. Anthony, #15 finished with 37 points and 8 boards, yet he and his teammates seemed disinterested on the defensive end. The Nuggets have allowed their last 11 opponents to score at least 100 points, a span in which Denver is remarkably 7-4.
Brook Lopez led all Nets' scorers with 27 points while Travis Outlaw caught fire from the perimeter converting on 8 of 14 field attempts for 21 points. The Nets have played solid at "The Rock," boasting a 13-12 record in Newark. New Jersey's road woes have been well documented with their three road wins opposite 23 losses.
The Nets can savior their victory over Denver as it validates New Jersey's youth movement has a bright future and it may behoove them to continue to develop their core. Fans should trust in the Russian billionaire as Mr. Prokhorov will be pleased that his Nets sent the Nuggets back to the Pepsi Center with a loss.