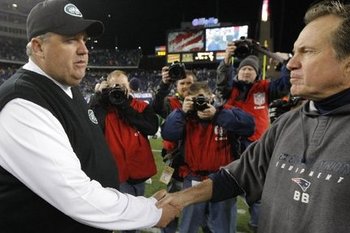 SUNDAY'S STORYLINE:
Mouthy versus reserved. Cherry Pie versus Humble Pie. Spygate versus Footgate? The contrasts are abounding between bombastic Jets coach Rex Ryan and the Patriots standoffish head man Bill Belichick. There is no love lost in this bitter rivalry as these division foes collide in what promises to be quite an affair. The all-time series between the Jets and Patriots is gridlocked at 51-51-1, dating back to the franchises' first ever meeting on September 7, 1960, at New York's historic Polo Grounds. Upon being hired, Rex Ryan declared that he is not in the business of kissing Bill Belichick's rings as he aims to topple the 14-2 AFC east champion Patriots this Sunday. In Week two of the regular season, New York defeated the Pats 28-14, with New England more than returning the favor Week 13 at Gillette Stadium with a 45-3 romping of Gang Green. New York disregarded their memory of that game by literally conducting a burial of the game ball under the turf at their Atlantic Health Practice Facility in Florham Park. The Jets will look to conduct a public burial of New England in front of 80,000 Patriot faithful on Sunday.
KEYS TO VICTORY:
1. Start Fast!
In New York's Week 13 drubbing at the hands of the Patriots, Gang Green faced a 17 point first quarter deficit in the blink of an eye. The last time New York scored an opening quarter offensive touchdown was Week 4 against the lowly Buffalo Bills. The Jets have a propensity for sluggish starts as Mark Sanchez struggles to settle in and find his cadence with his receivers. Look for New York to open up the play calling early on, capitalizing on an inexperienced Patriots defense, which ranks last in both passing yards allowed and third down conversions. New England will likely stack the line of scrimmage tempting Sanchez and the Jets 22nd ranked pass attack to beat them.
2. Make the Tackle!
The Jets didn't look like they wanted any part of tackling New England's speedy receiving core, or shifty running back Danny Woodhead back in November. If New York hopes to limit New England's prolific offense they will need to replicate their tackling performance against Indianapolis and bring it to Foxboro Sunday. The Patriots have a knack for turning short crossing patterns and screen plays into six points. New England does not have the vaunted vertical aerial assault they boasted in 2007, but Tom Brady is an expert at finding the open man and spreading the wealth amongst his receivers.
3. Force Tom Terrific into mistakes
Tom Brady enjoyed a phenomenal year for New England tossing 36 touchdowns and only four interceptions. Two of those picks were registered by New York's Antonio Cromartie and Brodney Pool respectively in Week 2. The Jets will need to find a way to dial up the pressure and flush Brady out of his comfort zone in the pocket. Both of Brady's Week 2 picks transpired because he was under duress, but Brady's offensive line has done an impeccable job of keeping him clean in the pocket this season. Gang Green's star studded duo of Darrelle Revis and Antonio Cromartie will be entrusted with locking down wide receivers Wes Welker and Deion Branch. If New York plans on pulling the upset their tenacious defense will have to force Brady into mistakes by applying pressure and capitalizing on any errant throws.