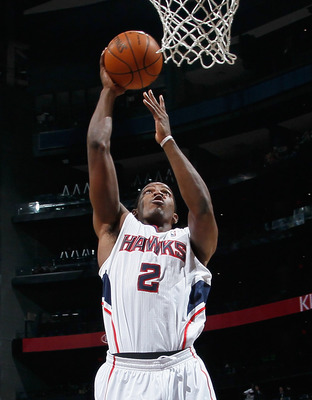 Following Thursday night's battle of goggled superstars (Amare' Stoudemire and Dwayne Wade respectively), the Knicks experienced a hangover effect Friday against the Hawks. New York put forth a lackluster effort on the defensive end. Atlanta attacked the rim at will producing highlight reel jams along with 23 trips to the free throw line. Atlanta shot 51 percent from the field and a superb 87 percent from the charity stripe. Joe Johnson led all scorers with 34 points, 8 rebounds and 7 assists.
The Knicks trailed by 24 points at the midpoint of the third quarter, but New York's late game surge closed the deficit to five points with 4:05 remaining in the game. The Knicks were unable to close the gap further as they fell 111-102 at Phillips Arena. Atlanta dealt the Knicks their fifth consecutive road loss with New York's road record dipping to 12-13 on the season. Five of New York's six upcoming contests are at home; where the Knicks' bench thrives feeding off the electricity and energy of the Garden crowd.
On Sunday, the Knicks play host to the Detroit Pistons, a team littered with talent, but struggling to find their identity. New York has a propensity for playing down to the level of their opponents and if they hope to avoid the letdown they will have to show a commitment to defense. The Knicks can clearly score with the best in the league, hovering around 106 point per contest, but a consistent effort on the defensive end will be the key for a rise to the East's elite.
Prediction: Knicks 110 – Detroit 97 F
Player of the Game: Danillo Gallinari 25 points, 6 rebounds 4 assists.