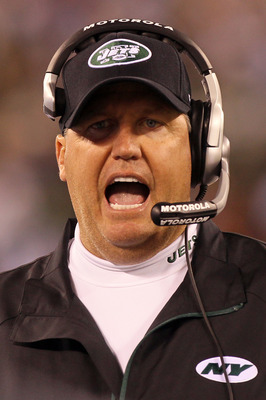 If anyone is capable of rebounding from two consecutive AFC title losses it's Rex Ryan. An eternal optimist and the Jets charismatic leader, Ryan possesses an unwavering confidence and unbridled enthusiasm that has inspired his players to believe in him and most importantly in themselves. Critics are enjoying a feeding frenzy berating Ryan for his unfulfilled Super Bowl proclamations while questioning his methods and philosophy. Rex Ryan seems unfazed by the pessimism.
"The good thing about the way I handle our team is that I'm just myself and I'll always be myself," exclaimed Ryan. "Hopefully, I'll be around a long time and we'll win a bunch of Super Bowls. One day when they tell me to leave, I hope they tell me to leave and to take [my] Super Bowl trophies with [me] [smiling]. I hope that happens. That's the way to go. I never see myself retiring from this position, so eventually, they're going to have to get tired of me. I think my style is sustainable for a long time because every day is different."
If one thing is for certain, Rex Ryan will not change his coaching style or his verbose nature as they have been instrumental in sparking Gang Green's playoff push. In only his second year, Mr. Ryan has transformed the culture of the Jets organization, rallying his squad around the "us against the world mentality."
"One thing I told our players was to be proud to be a Jet," said Ryan. "There's a lot to be proud of. The fact that we didn't reach our goal this year, clearly that's a disappointment, but it doesn't mean we had a bad season. We had a heck of a season when you look at it. How close are we to realizing our goal? We're pretty darn close. We're the only team of the final four teams that went [to the conference championship round] last year, to make it back to the final four. I think that's something for optimism, that we're a pretty good football team."
For all the negativity surrounding the Jets, they must be doing something right to attract all the media attention while capturing the public's interest. Rex Ryan vows to come back next year and with a vengeance not bemoaning Sunday's loss instead talking big and dreaming even bigger.
"I think that our best is still yet to come," proclaimed Ryan. "I think we have a lot of young core players that I think are ascending, and I think they're only going to get better. Start with the quarterback [Mark Sanchez ]. He's still one of the youngest players in this league. The great thing about [having] a great quarterback is then you can have a heck of a football team and have a heck of a run. That's obviously what we plan on doing."