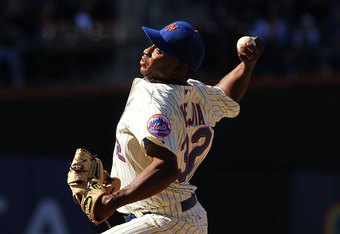 Jennry Mejia, arguably the Mets most highly touted prospect, will look to translate his all-star potential into wins for the Mets in 2011. Mejia appeared in 33 games in the 2010 regular season posting a 4.62 ERA while failing to record a win in six decisions. The Mets brass elected to send Mejia back to their Triple-A affiliate the Buffalo Bison mid-way through the year in order to develop him into a starting pitcher.
With the competition for spots in the starting rotation wide open, Mejia has as good as chance as any to toe the rubber for the Amazins' this season. Awaiting the return of ace Johan Santana who will miss the start of the 2011 campaign rehabbing his surgically repaired left shoulder; New York is in dire need of a diamond in the rough to shore up their pitching carousel. Dillion Gee, Chris Capuano, Oliver Perez and Pat Misch are among those vying with Mejia for the fifth and final spot in the Mets rotation.
Mejia has featured an explosive fastball and devastating change up, but questions are mounting whether his slight frame (standing at six feet tall and coming in at only 162 pounds) can support his power pitching style. This spring training Mejia has been working on a tumbling curveball while fine-tuning his off speed pitches to compliment his sizzling 97 mph heater. In Port St. Lucie, Mejia will have the opportunity to showcase his talents and his progression as he aims to becoming the youngest member of the Mets starting pitching staff.
With the National League East holding claim to its fair share of stellar pitchers, the Metropolitans will need to stockpile arms at the major and minor league ranks if they hope to compete in a robust division. Mejia may very well be a future staff ace and heir apparent to Johan Santana with the Mets hoping that Mejia will be an impactful pitcher for them in 2011 and beyond.