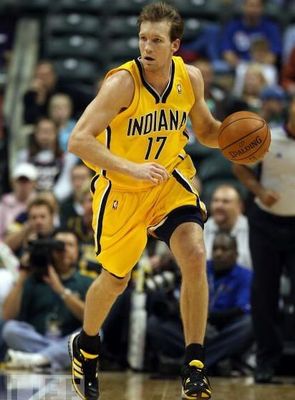 Super Sunday was not so super for New Jersey as they dropped their third straight contest 105-86 to Indiana. The Nets, losers of five of their last six games, endured all five losses by double digits. The Nets seem to lack offensive firepower failing to reach the century mark scoring since a 103-101 win over the woeful Cavaliers January 24th.
The Nets were early risers with a noon tip off apparently making way for some inconsequential football game broadcasting from Dallas, Texas on Sunday evening. In any case, New Jersey checked out of this game early, trailing 33-24 at the end of the first quarter, showing no feistiness or fight with the Pacers winning the game going away.
Indiana's interim coach, Frank Vogel relished the opportunity to improve his head coaching mark to 4-0. Behind a pair of New Jersey natives in coach Frank Vogel and shooting guard Dahntay Jones, the Pacers disposed of the Garden State's team with a wire to wire win. Jones led all scorers 18 with forward Mike Dunleavy chipping in 17 points on five of six from downtown.
The Nets have been outscored in the paint by an average of 12 points over their last two games against Detroit and Indiana. New Jersey will need force the action in the lane if they hope to find a spark offensively. The Nets have two days off to lick their wounds before facing New Orleans Wednesday Night at the Prudential Center, a Hornets team slotted in at the fifth seed in the West.
Prediction:
Hornets 97- Nets 85
Player of the Game:
Chris Paul 17 points, 13 assists and 3 steals.
Interested in attending Wednesday night's game or a future Nets home game?
Find the best ticket prices at: