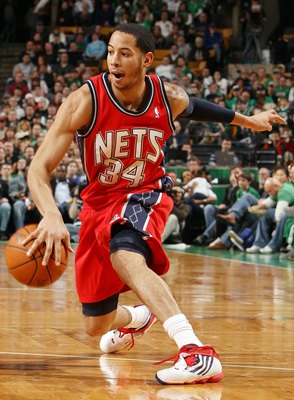 Valentine's weekend was off to a stellar start for New Jersey as they clawed the Bobcats 94-89, earning only their fourth road win of the season. Brook Lopez, New Jersey's man in the middle, dominated the paint pouring in 31 points while securing 11 rebounds. The Nets snapped an 12 game road losing streak despite shooting a woeful 2 of 14 from three point range.
New Jersey's key to success was their season low of five turnovers as they overcame a substandard shooting night by playing mistake free ball. Avery Johnson's Nets were searching for an answer to their road troubles and they changed their routine holding a practice on Thursday before Friday night's game. In the NBA, young teams struggle to hit their stride in road games especially rotational players who feed off the energy of their home crowd, while easily becoming rattled by raucous road fans.
The Nets would mosey on back to the Garden State for the first of a three game home stand facing their cross-town rivals the New York Knicks. Amare' Stoudemire would miss the game with an sprained big toe, but New York scorched the Nets from the outside making good on 16 of 34 three point attempts en route to a 105-95 victory. The game was closely contested until the final four minutes when the Knicks opened the flood gates and extended to a double digit lead converting on key offensive possessions down the stretch.
Devin Harris hit for a game high 22 points, but New Jersey's defense failed to close on open shooters as the Knicks offense ignited despite missing their superstar power forward in Stoudemire. The Nets have dropped both meetings against the Knicks this season as the balance of power in the Metro area has shifted to New York, a team appeared playoff bound, while the Nets destined for yet another lottery finish.