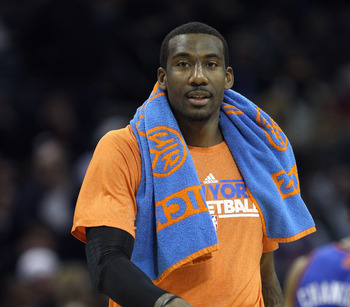 The Knicks split a home and home series with the 76ers dropping Friday's matchup 100-98, and evening the score Sunday night at MSG 117-103. In the city of brotherly love, New York was outscored 15 to zilch in a four minute span late in the fourth quarter watching a double digit lead evaporate to nothing.
Elton Brand put on a virtuoso performance recording a season high 33 points while snatching 16 boards. Amare Stoudemire took Friday's loss personally as he was outplayed by Brand, vowing to change the outlook on Super Sunday. Amare erupted for 41 points on a sizzling 17 of 21 shooting, tallying his 17th career 40 point game. The Knicks rebounded from Friday's disappointing loss and charged by a revved up Garden crowd put the Sixers away for good in the final period.
New York's offense has been scintillating of late, taking high percentage shots, and playing up tempo ball. The Knicks welcome in a pair of lala land squads, the Clippers Wednesday night and the defending champion Lakers on Friday night. New York will need every bit of Stoudemire's firepower to keep the good times rolling.
Looking for Tickets for Wednesday or Friday's Knicks Game?
The Best Ticket Prices anywhere on the web:
http://seatgeek.com/new-york-knicks-tickets/