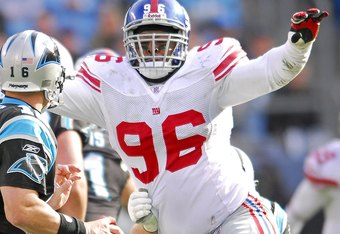 The heart and soul of Big Blue's vaunted defensive line in 2010, defensive tackle Barry Cofield is working feverishly this offseason to rehabilitate his surgically repaired shoulder and bicep. Cofield seems pleased with his progress as he plans to amp up his upper body workouts with his sights set on OTA's and minicamp this summer.
"I feel great," said Cofield. "I had my shoulder surgery and biceps surgery a couple days after the last game of the season. I got it done early to give myself as much time as possible to recover. I've been down here at TEST working hard. Rehabbing four to five times a week. I was really able to up my workouts this past week doing upper body and stuff like that. By the time OTA's start and minicamp I'll be able to go."
Standing a towering six foot four inches tall and tipping the scales at 306 pounds, Cofield's herculean strength enables him to bulldoze blockers and slam halfbacks to the turf with ease. This offseason, Cofield has worked with yoga instructors at TEST to improve his flexibility and develop his core strength.
"I've always been a strong guy," admitted Cofield. "I can bench a lot and I have strong legs. I have been working on all the small muscles that big guys don't normally focus on. I've played five years and started every game, that's a lot of tread on my tires, a lot of wear and tear. So I'm working on all the small things that can help prolong my career. "
When asked to provide his impressions of his newly incorporated yoga regimen, Cofield quipped:
"It's as close to torture as I've experienced." "I'd rather bench press 225 pounds 30 times than do yoga for 30 minutes. It exposes you. You think you're strong and you think you're athletic until you get in some of those poses and you do about an hour of core strength and flexibility and you realize you have a lot of work to do."
With so much uncertainty surrounding the NFL's labor dispute, Cofield's free agent status is in limbo. Cofield is considered an unrestricted free agent under current rules, but if the league decides to revert back last year's rules Cofield would become a restricted free agent this offseason.
"Hopefully we win the injunction and everyone gets back to work, said Cofield. "It depends on the rules. Hopefully I'll be an unrestricted free agent and go from there. But if I'm restricted I'll have to w
eigh my options there too. The Giants told all their free agents a months ago they don't want to engage in any big contracts until they know what the salary cap is going to be and all of this gets ironed out. And they stuck to it."
With five NFL seasons under his belt as a member of the New York Giants, Cofield made it abundantly clear his preferred return destination is with Big Blue. If Cofield is able to secure a long term fair market deal with New York, he seems ready and willing to sign above the dotted line. With the decertification of the union, imminent salary cap changes and the Giants desiring to secure several other big contracts, Cofield understands he may have to expect the unexpected.
"I would love to re-sign with the Giants," exclaimed Cofield." I would love to have a fair deal based on the way I played. If they offered me that, that would be the ideal scenario. I love this state, I love the coaches I love my teammates. I feel like we have the best defensive line in the NFL. There's nothing to make me want to leave. At the same time, if the economics don't work out based on the money they've already paid the guys then I understand that and I'll start a new chapter."