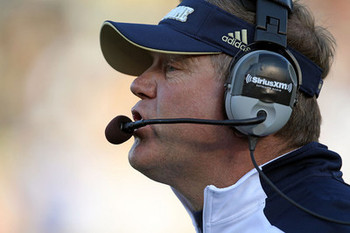 The Fighting Irish entered Saturday's contest with South Florida as the 16th ranked team in college football nation. A game nearly reaching six hours in duration- with two separate severe weather delays- saw Notre Dame exit into the tunnel at South Bend to the tune of a bitter 23-20 defeat. The rain and lightning may have let up but the rain of boos from frustrated fans was unrelenting. Head Coach Brian Kelly's antics were reminiscent of a foul mouthed sixteen year old, not the inspirational leader of a 16th ranked Irish squad. Kelly's rage reached critical levels when Irish receiver T.J. Jones had a pass deflect off his pads and into the mitts of South Florida's Michael Lanaris.
Notre Dame was in the spirit of giving, tossing two interceptions, while committing two lost fumbles-the most deflating coming on the Irish's opening drive- returned 99 yards for a score. The early miscue took the wind out of Notre Dame's sail, as a 16 point first half deficit proved too much for them to overcome. The Irish's homecoming parade may have been spoiled, but it was a bitter sweet moment for Skip Holtz- South Florida's head coach
and son of Notre Dame's legendary head coach Lou Holtz. For Skip, it goes down as one of the biggest wins in the coach's history-while Brian Kelly's temper tantrum was indicative of the anguish along the Irish sidelines.
Next week, Notre Dame travels to the "Big House" in Ann Arbor to tangle with Denard Robinson and the Michigan Wolverines. Brian Kelly will have to build his squad back up after berating his players for their poor performance on Saturday. Notre Dame's confidence is certainly shaken, as fans clamor for the dismissal of Coach Kelly for his sideline tirade and poor preparation. Can Brian Kelly's squad shake out of this early rut, or will luck continue to evade the Irish?