3:04:00 PM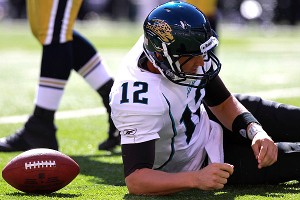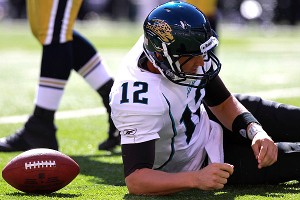 Passing Offense:

Mark Sanchez tossed two first half interceptions, but Gang Green's defense righted the ship paving the way for a blowout victory. Sanchez was impressive on the Jets opening drive, connecting on all four of his passes for 60 yards, including a 17 yard touchdown strike to Santonio Holmes. The man they call the Sanchize would finish 17 of 24 for 182 yards with two touchdowns and two picks on the afternoon. The Jets third year quarterback looked to force the issue early on, culminating in his two turnovers, but once the defense took a stranglehold on the game, Sanchez played within himself.
/>
Grade: B-

Rushing Offense:

Give the Jaguars defensive front some credit as they plugged up New York's running lanes, limiting ball carrier Shonn Greene to 49 yards on 16 touches, including a one yard touchdown rumble. The Jets offensive line was beat to the punch, and when Nick Mangold's high ankle sprain forced him out of action in the first quarter, New York's run game took a nosedive. Tackle Wayne Hunter committed a hold and a false start penalty catching the ire of the coaching staff for the second consecutive week. Questions remain whether starting tailback Shonn Greene can shoulder the workload of a full-time back, with Sunday's performance pedestrian at best.
Grade: C

Passing Defense:

Jaguars quarterback Luke McCown amassed a quarterback rating of 1.8. That's not a typo or a cruel joke, Jacksonville's signal caller had a nightmarish game facing a rabid Jets defense. Antonio Cromartie stole the show, with his two interceptions crushing the spirit of Jacksonville and leaving little doubt as to who deserves MVP honors on Sunday. In a game where McCown tossed four picks, the Jets had countless opportunities for more, in what was a historic day for the Jets secondary.
Grade: A+

Rushing Defense:

The human pinball, Maurice Jones-Drew, had 107 all purpose yards; yet the Jets prevented Jacksonville's tailback from breaking off big running plays. With a long run of 16 on the afternoon, Jones-Drew was kept at bay and unable to find the end zone on Sunday. Jones-Drew 16 carries for 88 yards doesn't have the looks of a poor performance, but given the back's dynamic game-changing ability, the Jets were more than satisfied with his final stat line.
Grade: B+

Special Teams:

Nick Folk made good on his three field goals tries (38,45,23) and Antonio Cromartie brought back two kicks for a total of 85 yards as the Jets put the special in special teams play. New York had great starting field position, while the Jaguars were pinned deep in their own territory much of the afternoon. Hats of once again to Mike Westoff and the special teams unit.
Grade: A

Coaching:

The game plan for New York was simple, stop Maurice Jones-Drew. They executed well and were able to force Luke McCown to try and beat them, but instead he beat himself. The Jets first down play calling was predictable and ineffective as they tried time and time again to ground and pound between the tackles with Jacksonville loading up the box. When offensive coordinator Brian Schottenheimer went to the play action pass, the game opened up for Sanchez and his receivers and the Jets moved the ball with success. Head Coach Rex Ryan and defensive coordinator Mike Petine overwhelmed Jaguars quarterback Luke McCown, possibly costing him his starting job. The Jets racked up seven penalties for 70 yards and looked sloppy at times, but the team was prepared and executed the game plan well.
Grade: B+

Rick Laughland
Link
Author