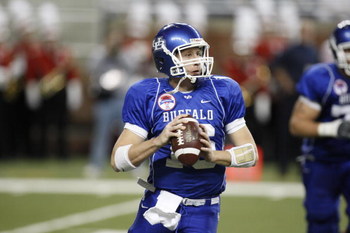 Prior to the Jets preseason finale, quarterback Drew Willy was hardly a household name.
With veteran quarterback Mark Brunell's injured finger sidelining him this preseason and rookie signal caller Greg McElroy sustaining a dislocated thumb Thursday night, Willy's chances of securing a spot appear more and more likely.
Drew Willy, a New Jersey native, set Randolph high school's mark for passing yards and touchdowns paving the way for an equally successful collegiate career at the University of Buffalo. There, he evolved into the University's most accomplished passer, establishing school records in completions (849), attempts (1,322), passing yards (8,748), completion percentage (64.2), touchdowns (52), as well as total offense (8,369). In 2008, Willy's senior year, he led the Buffalo Bulls to a MAC Championship where they upset the heavily favored and previously undefeated Ball State Cardinals.
Willy was projected by scouts and draft experts to be a late first round selection in the 2009 NFL draft, yet he went undrafted electing to sign a one year contract with the Baltimore Ravens. Willy's time in Baltimore was short-lived as he was released immediately following the 2009 season, without taking any snaps in the regular season.
The following year, the Indianopolis Colts had Willy on their radar as they signed him to their active roster December 26, 2010, only to send him to the practice squad three short days later.
In August of 2010, the Colts released Willy and with NFL int
erest in the young quarterback waning; Willy tried his luck in the UFL with the Las Vegas Locomotives. There, he backed up former San Francisco 49er quarterback Tim Rattay as the Locomotives steam rolled their way to a second consecutive UFL championship. Under the tuteledge of Rattay and former New York Giants head coach Jim Fassel, Willy developed his understanding of the game, capturing the attention of NFL scouts once again.
In September of 2011, Willy was signed to a reserve contract by the New York Jets, who decided to give the Garden State gun slinger a chance to compete as the third stringer. Willy performed well in Thursday night's 24-14 defeat at the hands of the Philadelphia Eagles. The 24 year old totaled 109 yards passing, completing 9 of 17 passes including a 14 yard touchdown strike to rookie wide out Scotty McKnight. Willy's future with New York remains uncertain, but the hometown kid is making his bid to grab a position on New York's depth chart. With the regular season opener fast approaching, the Jets will have to determine whether Willy can blossom into a viable backup with Gang Green in 2011.
`