When we try to have a serious discussion about sports between friends, you try to either have a sensible discussion or at least calm your friend down when he might go completely crazy about the player he has an issue with.
But on social media it's a completely different story. Sometimes having people waiting to hijack your comments to try and bait you to say something silly or to try and tag you for being a racist all because you had a negative and legit comment about a certain player and it wasn't for the color of his skin.
Geno Smith who is the backup QB for the New York Jets right now is a player that has the ability and the talent to do some damage on the football field and has won games in the past, but the negative on the field is he makes too many mistakes and he hasn't corrected them.
But off the field he made the biggest mistake inside his own locker room during the pre-season last year. We all know the situation that got Smith sucker punched by I.K. Emekapali inside the Jets locker room because he was too immature not to settle the matter like an adult, or at least do the right thing by paying Emekapali back the money for the flight Smith missed as a family member was injured.
Every time I look at an professional athlete that plays for a certain sport or for a certain team, it's a given that they have fantastic athletic ability to go out and perform at the highest level, but as I have always said his mental makeup is also a major part of how any professional athlete conducts his actions on and off the field.
Smith boasted when Ryan Fitzpatrick came back during training camp that he was auditioning for the 31 teams in the NFL for his services and outside of a decent performance in the first week of the Pre-Season against the Jacksonville Jaguars, he flopped big time and while he is still in Green and White, Smith looked disappointing.
So are my comments about Geno Smith racist? No they are not, because this is a simple evaluation of the young man who has plenty of potential and sadly lost the respect of the locker room as each and every player were Black, White and Hispanic. At the same time when Mark Sanchez was injured back in 2013 I was rooting for Geno to have a good season and hoped he was the future franchise quarterback this Jets team desperately needs.
Why is it that I have supported Todd Bowles as the head coach of the Jets when he came over or why is it I have a Darrelle Revis Jets jersey in my possession. Not only do I want athletes of all colors to succeed for the sports teams I cheer for, but I also show respect to the ones that I enjoy having conversations with like the professional soccer players who come from England, Jamaica and those from the United States.
It is a damn shame that internet trolls who hide behind their computers will try to hijack a legitimate conversation and try to tag you as a racist, just to make you feel like crap and stop the conversation. Why is it that I have made friends either thru School, Summer Camp and show respect to colleagues in the sports writing business of all color, yet a pathetic fraud wants to pick a fight or try to end a legit discussion because they throw that word out there without showing any responsibility for it what so ever.
Sadly we may never know why these internet trolls and cyber bullies will continue to try and make you look like something you're not or shaming professional women journalists because they think they are better than these woman who do a fantastic job at their craft.
Just for once you wish these trolls would have the courage and dare I say the balls to actually have a legit discussion about the topic that is being discussed and stop throwing out words that will halt it. Because you do nothing by destroying real conversations for no reason.
Heading into the first game of the 2016 regular season, the New York Giants look to overcome the Dallas Cowboys in Dallas. History is against the Giants, as they have never won a season opening game against the Cowboys.
If the Giants can take advantage of these three matchups, they should have an easy time getting their first season opening win against the Cowboys ever.
At the line of scrimmage, the Giants defensive line will need to find a way to out-play the Cowboys league-best offensive line. Olivier Vernon and Jason Pierre-Paul will have matchups against Tyron Smith and Doug Free, two of the best offensive tackles in the NFL. Vernon and Pierre-Paul as a duo will have the advantage in nearly every NFL game this season, but against Smith and Free, they will have to be creative to get to the Cowboys quarterback, Dak Prescott. On the inside of the defensive line, Damon "Snacks" Harrison and Jonathan Hankins will have to go against a mixture of Zack Martin, La'el Collins, and Travis Frederick. Martin, Collins, and Frederick make for one of, if not the best interior of an offensive line in the NFL. Harrison and Hankins will have a very tough time stopping the Cowboys running back, Ezekiel Elliott. The Giants will need to be creative in order to outsmart the Cowboys offensive line. If they want a chance at beating the Cowboys, they will need to find a way to get to the quarterback. Giving Prescott too much time in the pocket will hurt the Giants, as it will require the secondary to cover the receivers for a longer period of time. It is key for the Giants to outplay the Cowboys offensive line on Sunday.
Looking to the backend of the defense, the Giants' linebackers and secondary will need to cover the Cowboys' receivers and tight ends far better than they did last season. Dez Bryant is healthy, and that means he is likely back to his top 7 wide receiver form. Bryant is far bigger than any of the Giants' cornerbacks, so it is extremely important for Janoris Jenkins and Dominique Rodgers-Cromartie to stay with Bryant and knock away some passes. Jason Witten, the man who caught the game-winning touchdown in last year's Giants vs. Cowboys matchup, has looked good this preseason. Team captain Jonathan Casillas and the rest of the Giants' linebackers will need to maintain Witten in the middle of the field and limit his receptions. If the Giants can limit the Cowboys recievers and tight ends, it will take a ton of pressure off of the defensive line and will make it impossible for the Cowboys to put many points on the board.
Odell Beckham Jr vs. Brandon Carr is the final matchup that the Giants need to win in order to acquire a win this week. Carr is most famously known for being on the bad end of Beckham's famous bending, one-handed touchdown grab two seasons ago. However, Carr was able to limit Beckham to less than 100 yards last year. Beckham will need to play far better than he did against Carr last year if he wants to give the Giants any chance at putting points on the board. While Giants' receivers Victor Cruz and Sterling Shepard will have their own opportunities, Beckham is without a doubt the Giants best receiving option. He will need to beat Carr throughout Sunday's game to get the Giants a win.
These three matchups are the key matchups to watch this week as they all can go either way. If the Giants can win at least two of these three matchups, they are in good position to get a win in a moderate rated matchup against a very talented Cowboys' offense, but an extremely mediocre Cowboys defense.
The 31st Annual Marty Lyons Foundation Celebrity Golf Classic will be held on Monday, July 11, 2016 at Old Westbury Country Club.
Joe Namath March of Dimes Celebrity Golf Classic at Bethpage State Park on September 21-22 in addition to the MLF Celebrity Golf Classic.
The Committee is asking for people to donate an item for the raffle or silent auction or even have interest in a foursome, or simply make a tax-deductible financial donation.
Namath's event raises money for March of Dimes and helping babies. Marty Lyons' event grants wishes to critically ill children and please note that $0.92 of every $1.00 by the MLF goes directly to granting wishes.
Upcoming Charity Events:
7-11-16 31st Marty Lyons Foundation Celebrity Golf Classic, Old Westbury CC
9-20-16 4th Annual Victor Green Foundation Celebrity Golf Classic, Glen Head CC
9-22-16 12th Annual Joe Namath March for Babies Celebrity Golf Classic, Bethpage State Park (Bethpage Black)
Cleveland's 52-year championship drought finally ended on Sunday night as the Cavaliers became the first team in NBA finals history to come back from a 3-1 deficit to win a series by virtue of their 93-89 victory in Game 7.
Lebron James fell to the hardwood at Oracle Arena in disbelief as the final buzzer sounded and cried tears of joy as the reality sank in that the burden was finally lifted.
Cavs head coach Tyronn Lue sat at the bench with his head in his hands, clearly overcome with emotions. Even J.R. Smith let it all pour out as he celebrated the title in Oakland.
The 73-win Warriors entered the series as heavy favorites and had three chances to secure their second straight Larry O'Brien Trophy, but they let it slip out of their grasp.
The reigning two-time MVP Stephen Curry stole the show during the regular season as Golden State had a record-setting 2015-16 campaign, but the team from the Bay Area was dealt its ninth loss of the playoffs which matched its regular season total.
Lebron carried the city of Cleveland on his back and finally lifted the curse that haunted its fans for more than five decades. When Lebron made "The Decision" and left Cleveland for Miami back in 2010, he was demonized.
Upon announcing his return to the franchise in 2014, the King wrote a heartfelt letter to his fans to tell them he was coming home and vowed to deliver the city a championship.
As bleak as things looked at times, Lebron delivered on his promise.
Cleveland can finally celebrate its first Pro title since 1964 and call itself the City of Champions.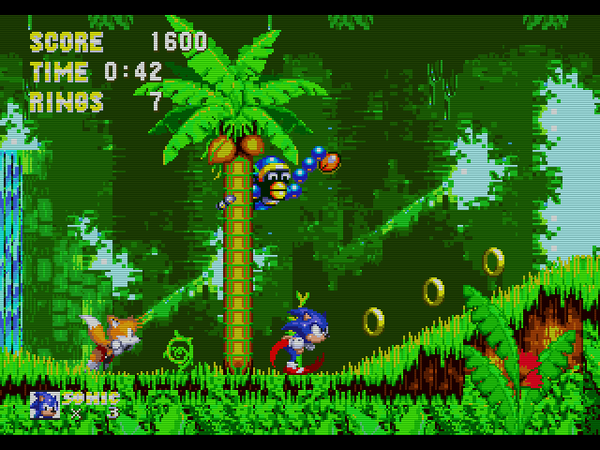 5. Pete Sampras Tennis
Whether it was the pretentious "Quiet Please" from the PA announcer or the life-like grunts from each player, this Genesis classic was loads of fun and had 4 player action to boot.
4. Super Baseball 2020
It's scary to think that the year 2020 is just around the corner, but this futuristic baseball game features robots and mutants that could hit and pitch with the best of them.
3. Sonic and Knuckles
What could be better than playing as Sonic's arch-nemesis and playing classic levels and new worlds with a bevy of characters to choose from.

2. Sonic the Hedgehog
Move aside Mario there's a new sheriff in town. This speedy little rascal became the face of the Genesis console and his debut was a masterpiece.

1. Sonic 3
The most polished and refined of the Sonic series, Sonic 3's adventure was the best of the bunch and is widely considered a top 5 game of all-time
ORIGNALLY POSTED ON
SMALL CHICK BIG DEALS
If you are someone looking different, organic and a bit healthier than your usual you better get your booty to Kitch Organic. It's not far from where I slay in good ole Red Bank and they are always serving up fresh food including herbs, etc that are from the garden in the back. Kitch Organic aka KO is located on 75 Leighton Avenue tucked away behind Shrewsbury Ave and away from the craziness of Broad Street.
It's small but if you can grab a seat inside or outside it is perfect for a little lunch date or early breakfast its totally worth it! When we went I got the Strawberry Basil Lemonade [$5] and the Chicken Bahija [$15] (pictured above). The portions were great and you get what you pay for.
Next time I come in I'd love to try to the breakfast! It ranges from $8-14 but seems really worth it!
It's definitely top on my dining destination lists!
5. MADDEN 64
While the gameplay wasn't exactly legendary, the 3D player models, albeit blocky, were revolutionary and made an impressive debut for the Madden franchise into a 3D world.
4. MARIO KART 64
Not quite as good as its predecessor, Mario Kart 64 had incredible 4-player split screen action that created endless hours of entertainment and fun.
3. GOLDEN EYE 64
The most realistic first person shooter of its time, Golden Eye become an iconic game in Nintendo's history and still has a widespread following to the present day.
2. MARIO 64
From 2D side-scroller, to bouncing around Bowser's massive 3D castle, everyone's favorite Italian plummer was a smash hit on the N64 in this instant classic.
1. BANJO KAZOOIE
One of the most underrated platformers in gaming history, Banjo Kazooie had all the goofy laughs, fun storyline, memorable characters and immersive environment to make it a top pick for the N64 console.
ORIGNALLY POSTED ON
SMALL CHICK BIG DEALS
So on Friday, Nick Jonas dropped his long-awaited, third solo album appropriately called, 'Last Year Was Complicated.' When I heard that was the album title, it automatically made me want to buy it more because I knew I could relate since Nick is on the single train too! I loved Nick's last cd, Nick Jonas x2 so I was bit apprehensive if he'd have hits that would be better than 'Jealous' and 'Chains'. But he proved me wrong, when he started teasing us fans with, "Close", and "Champagne Problems", I knew we were in for a treat.
The album starts with an upbeat song called, "Voodoo", which is basically about how he can't help but come back to his girl because her 'Voodoo' keeps him under her spell. Turn it up its great to start pregaming or even a dance party. The next song, which is ideal for any pregame is called, '"Champagne Problems" which he used to promote the album as one of his teaser songs, at least that's what I like to call it. It's extremely catchy, and I'm pretty sure I know all the words already. After that, it goes into, the deep and Nick's debut single, "Close", from 'LWYC' featuring Tove-Lo. With lyrics, like "Cause space is just a word made up for someone whose afraid to close." How can you not like it? It also has a very chillax tempo! The next song, "Chainsaw" is a ballad about a breakup.
I love the album as a whole but I already have two favorites I'm constantly blasting which I foresee being big hits. The first one, number five, "Touch". It's so catchy, with lyrics like "I go from touchin' you with both hands, to touchin' you with no hands
T-t-touchin' you, That's my favorite way of touchin' you."
I can't stop singing it in my car and the beat is great.
The next song I love is, "Good Girls" which features Big Sean. I feel like it's a song that any millennial woman can relate to. I know I can. Here are some of the lyrics from the chorus,
"When did all these good girls decide to be bad?
Dancin' up on the table, gettin' back at your dad
Who's the asshole that told you
That's what you had to do? Yeah
When did all these good girls decide to be bad?
You know I love your skin, but is it deeper than that?
Don't wanna blame you for it, cause that's what we ask of you
Yeah, but when did all these good girls"
Big Sean kills it in his part to which I think most of the fellas can relate to,
"I used to be too bad for the good girls
Now I'm too good for the bad girls, no middle ground
Funny how big cities turn to little towns
When you tend to get around, I think we should sit it down
Girl you way too good to be in here
I see what they don't see and see it clear
I think we should prolly take a little time out
You know, slow it down, clear your mind out
Figure out what you're into
You don't strike me as a club girl, you seem more residential
To keep it real, I just want a bad girl tonight
And a good girl for life, all I seen was potential"
As I mentioned earlier, I love the whole album. I took a trip to Long Beach, NY and it lasted me the whole trip. I got my cd (yes I didn't download it) at Target because it came with bonus tracks. I highly recommend you give it a listen! I'm constantly bumping it on Spotify too!
Well, I hope you enjoyed my first of many music reviews! I'll try to post one once a month.
XO Sara
Frank "Stiff" Sardoni Jr. won the Madden 2016 Championship at EA's tournament in Los Angeles, CA.
Sardoni Jr. used the Chicago Bears, his childhood team, to knock two-time Madden Challenge Champion Eric "Problem" Wright's San Francisco 49ers in the final.
EA Sports announced the 2017 Madden Championship series, which will include a $1 million prize pool given out over the course of the tournament.
ORIGNALLY POSTED ON
SMALL CHICK BIG DEALS
scbdfitness
abworkout
Hey all! I told you I'd be back in full force, slowly but surely. I've been going through a rough patch lately and have had the urge to workout more than ever, which includes going to a class once a week at Pure Barre Red Bank (maybe it'll increase in time too). I love the barre workout because toning and abs are a big focus. Since I'm not a big runner I decided to look up a workout I could daily on Youtube that would help me build my six pack. I came across this— PopSugar Fitness 10 Minute Barre Ab workout and it kicks my ass enough and gives me a nice little workout when I wake up in the morning. It also keeps me going during the week before and after my 6 AM class on Tuesday's!
I love it and if you follow me on snapchat I am constantly snapping my progress lately!!! I promise I'll be taking more pictures before and after class and updates on snapchat!
Stay tuned for my posts on my barre experience at Pure Barre Red Bank and the great deals they have starting this month so you can join me!
XO Sara
If you are a New York Rangers fan you have to think to yourself that not only are you facing a very tough Washington Capitals side that is in first place of the Metropolitan Division, but at the same time you feel like there is another opponent lurking against the Rangers and it is the National Hockey League.
Because when the Rangers began the second period of their hockey game at the Verizon Center there was a play at the net as Antti Raanta tried to stop a potential goal scoring play and got help from Defenseman Kevin Klein to clear the puck off the goal line and the referee's blew their whistle to end the play.
Of course the protocol to make sure if there is a goal or not is to go to the replay booth or as we all know, the war room in the NHL office in Toronto to make sure it's a good goal. After MSG Network and on Comcast Sportsnet Mid-Atlantic showed all angles that was afforded to their viewers that never showed the entire puck cross the goal line, simple logic is that the Washington Capitals wouldn't get credit for a goal.
But sadly that thought process is wrong as the referee's were informed by the war room in Toronto is that there was enough evidence to give a goal. The Rangers were incensed of this decision and Alain Vigneault challenged the ruling. Sadly the challenge was lost and the Rangers were playing on their heels for the rest of the second period.
T.J. Oshie tied the score at two in the second period, but when the beginning of the third began Derek Stepan converted the game winner and the Rangers held on to win the game. But the negative feeling still hovers as the NHL has allowed a phantom goal to count after a review that showed all angles that the "ENTIRE" Puck never crossed the line. But the cameras caught something on the inside of the posts and it looked to be a camera inside the posts.
It looks as though the NHL is trying a new way to help call goals from a camera view inside the post to see if the entire puck has crossed the line. But there is just one slight problem and that is there was no replay angle from inside the posts allowed to be shown on the respective networks that were broadcasting the game. The NHL in secrecy is not showing this new angle to try to get calls correctly when it comes to goals barely being scored over the goal line.
Why are they not showing their fans on a regional sports network for both the home side and the road side a simple replay to prove there is a goal? Are they testing this new angle and keeping things under wraps? All angles afforded to the fans were showing in full the entire puck did not cross the goal line and the inside the net camera if there was one also never showed the entire puck cross the goal line.
In Tennis and slowly but surely in Soccer they are using the Hawkeye technology to make sure that if a Tennis Ball is struck towards the lines to make sure the play is either in or out except for clay court tournaments like the French Open as the ball leaves an impression if it's in, on the line, or out of play.
In the 2014 World Cup they put a chip inside the soccer ball and to make sure the "ENTIRE" ball has crossed the goal line and it's a legal goal. The NHL has been notorious for adjusting the rules during the regular season as well as the playoffs when they feel something is not right and need to amend a rule in the book during the current season when these issues should be taken care of during the off-season.
Kevin Klein and the Rangers were angry and upset that a goal was allowed when all angles of these replay cameras showed the entire puck never crossed the goal line and while the Rangers did win the game the truth is that all 30 teams should be on warning right now. You never know when this flawed system is going to be used in their game and if it is that close to call, the replay room will award a phantom goal because they think they can.
Once again these types of shenanigans are being used on the Rangers and one day it could happen to your favorite team, but here is the link to the actual highlight and you make the call if the entire puck did cross the line. Because as of right now the National Hockey League once again under Gary Bettman's rule has made another grave mistake.
https://www.nhl.com/video/beagle-nets-rebound/t-277752844/c-42183203